Air Force Full Rank Shadow Box - Senior Master Sergeant (SMSgt)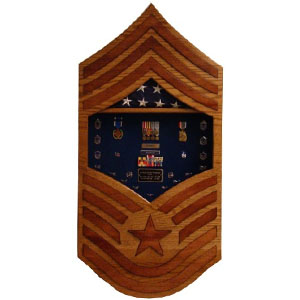 Air Force Full Rank Shadow Box - Senior Master Sergeant (SMSgt)
When you want to 'Go Big', the Chief this is the shadow box you want. At 49" tall it is impressive to say the least. The overall shadow box is made from Genuine Red Oak so it's built to last. The stripes (upper and lower) along with the star are made from African Mahogany and they are inset into the oak rising up from the oak approximately one quarter of an inch. This is one of the most unique Chief Master Sergeant boxes there are. The glass front protects the items inside from dust and fingerprints.
If item is not in stock, please allow 4-5 days to make, in addition to shipping time.
Overall dimensions are 24x51 and 4" deep. It holds the traditionally folded 3'x5' flag.
Enter your personalized message after you click 'Add To Cart'.